so after that wednesday blog the week made a complete 180. or 360...but that usually means you are back to where you started...and that's definitely not the case.
thursday was great. i don't remember all the details of what we did at school but i do remember when we were in the workroom in the morning Sbu and some of the other boys came in looking for their teacher and he asked me if i brought the soccer ball. i told him i had it but i had to pump it up and i'd meet him in the court yard after school. i had a sharpie in my hand and told him to sign the ball, and his friends too, i told them they could NOT break any windows with it and they had to share but i told Sbu he could keep it when they were done. you would have thought i told him he just won the lottery. his face was priceless. i met up with them after school and kicked the ball around with them for a little bit (they're REALLY good....it made me feel a little old so i didn't play long). oh! i remember now, Liz and I taught the grade 10 sex education class. we did the questions again and got tons of new topics. it was a little disheartening because this class was not as open-minded as the previous class and they definitely were not as active in the discussion. they didn't think homosexual relationships were right. the boys (there were a lot of boys in this class) said they wouldn't care if a girl asked them to wear a condom, they would just move on to another one. and they were just as clueless to STD's as the other class. sigh. we had a lot of explaining to do....
saturday we made history, again. we were in a march to end violence against women and children in the community! yes, it's true, i was in a peace march in south africa. i'm pretty sure it doesn't get any cooler than that. they had guest speakers on top of a big convoy with a PA system. people from all different organizations working towards ending violence towards women and supporting the domestic workers union. there was a rap group of 3 guys who were really good. before and after all the speakers the would say "VIVA! rape crisis center, VIVA!". it was awesome. i got goosebumps on my arms from almost all of the speakers. they told stories of women they've worked with and how their efforts have failed and we need to do more as a community to come together and fight against the law system who lets rape cases go on and on for months and even years without bringing any justice or peace to the victim and families.
this lady was sitting on the curb and i asked if i could take her picture. she was so tickled to see her image on my screen. very photogenic.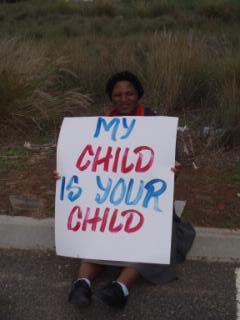 this is me and my roommate ashley. she's amazing. the best roommate anyone could ask for. and she doesn't even read this blog so you know i'm telling the truth.
we had to get off the march at city hall. they were going to parliament but we had another appointment to meet with four women refugees. i took this picture after we got out of the march. i was going to keep my sign but instead i handed it off to one of the kids who skipped school to be apart of the march. there were seriously tons of high school kids still in uniform participating.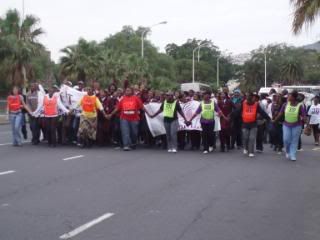 there was dancing and singing and chanting. it was so powerful and uplifting. VIVA!
after the march we met with four refugee women from Congo, Rwanda and one other country i can't remember. they are doing bead work with one of our professors friends and we were meeting with them so they could work on their "people skills" because they have been displaced from their homes and very shook up by what is going on. which leads me to my next topic. we are all safe here. i know the news makes it sound like there is violence in the streets (which there is, just not near us) and it's very sad. we went to a church service on sunday and they spoke about the xenophobia and how it is effecting the community. today in school a group of girls came up to liz and i and asked us how we felt about it. i summed it up by saying, "well, i think it sucks." along with some other choice words that were a bit more classy. two boys told their teacher they witnessed some men beating and killing 2 other men from Zimbabwe this weekend
in their front yard.
it's ridiculous. people, kids especially, should not have to go through this. we have read about, heard about and seen the stories of refugees and the stories of those being effected by xenophobia. just keep them in your thoughts, please.
lighter notes.
i went surfing on saturday!!! here is the proof.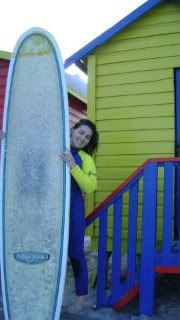 it was SO fun! i stood up a few times but only for .32846 seconds and then i fell off. my mom says that still counts. we are trying to go back this saturday, meredith and i will have to sacrifice seeing Cape Point but i think the whole coast is beautiful and we've seen a lot of it already so i wouldn't mind trading that trip in for another surf outing in south africa.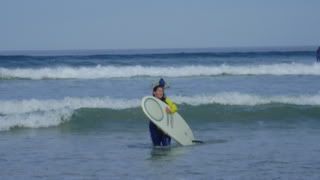 actually in the water incase you thought i put on that wetsuit and grabbed a board just for the photo-op.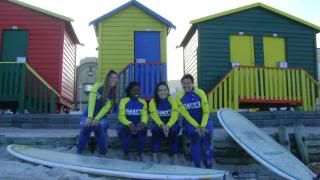 meredith. crystle. me and jen (dr. fish). gnarly.
sunday we took the boat to Robben Island. i got to see Nelson Mandela's cell, that was pretty awesome. i took a few pictures but ended up deleting them. i don't know, i just felt weird trying to glamorize a place of pain and suffering for some glossy photos. it was a very interesting place. all of the tour guides are former political prisoners like Mandela. we took a bus tour of the island. it looks like a ghost town but 50-80 of the staff member live on the island. it was so foggy and gloomy that we couldn't see back to the mainland but i saw pictures and the view is incredible. we heard about how they made the prisoners carve out lime stone for no reason but to do busy work. that's why Mandela's eyes are so bad now, 24 of his 27 years in the prison he was working at those sites...for no reason. they said he went in very angry and hostile and came out a completely changed man...i still don't understand how a human being can be so peaceful after being put through hell for so long. i'm just glad there are people like that in the world. it makes it easier for me to continue to have hope.
sunday we saw the choir preform at the church. it was a loooong service. we stayed for about 2 hours and left around 1230..the service is probably still going on. the choir sounds even better in the church with the proper acoustics. i love those kids. i can't even think about leaving them yet.
today was such a great day at school! even though we did have to be there by 745am to be at the monday morning assembly....with no starbucks. i met with Swallows in the lab after the assembly and he had 9 students ready for me to work on the website with them. i set it up and gave them a tutorial about the site and how to change things. some students went to classes after that but some stayed so i decided to do some other work until i heard "katie! can you come here." it was one of the boys from the group. i walked over and he had the website page open and was working on it already! i was so excited. he asked me some stuff about it and went back to working on it for the next 30-45 minutes. it was so cool. i helped them create email accounts on Gmail and i made them all add me in their address books. as a tutorial exercise of course. i already have 3 new messages.
our workshop is tomorrow afternoon. we're going to talk about sex, peace, empowerment, awareness and knowledge. it spells out SPEAK if you didn't pick up on that...haha. the main focus will be about xenophobia, HIV/AIDS, rape/abuse, plans for the school like the book club and working on the website and of course the infamous question and answer session.
i'm sorry i haven't had the chance to update in so long. i wish we had a computer at the house so i could tell you what was going on all day! i think i've said that before. at least 5 times. thank you to everyone who continues to be a committed reader! as soon as our plans and ideas are solidified for the book club or donations i will let everyone know. these next few days are packed with meetings and trips and saying our goodbyes :( it has flown by and i'm not ready to leave. i miss you all but i feel like there is so much more to do here and i have already become attached to these kids! laura was in the lab when i was working with the website kids and she looked at me and just said "wow....you should be a teacher. you're so good at this" i just laughed at her and said "yeah, i've heard that a few times."
i love you!