my last update was tuesday and that feels like a year ago. ok, i have a lot of catching up to do and the internet cafe closes pretty soon (i have only seen a clock in ONE building since we've been here).
first of all. dad, no, you are not a "blogger" just because you left a comment on MY blog. aunt kathy and everyone else, a blog is basically a web-journal. carolyn, the title is from an Elliott Smith song. Ellen, i did receive my luggage yesterday morning! woohoo!
since this week has flown by and our days are incredibly long, i'm sorry to say i can not recall all of the activities on the specific days but i can tell you what we've been up to.
we visited this beautiful beach. i don't know the name of it but i do know it means "make you happy" in Xhosa. you can see why...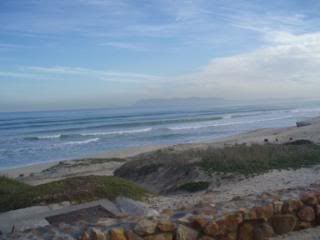 here is a short video (it took 40 minutes, yes 40 MINUTES, to load one video off my camera so i will give you a taste of what the Stepping Stones school is like. Krystal, Meredith and Nicolle work there. The kids are young, i think i said that in the last post? ages 2-6ish.)
(you can go to my photobucket link on the second blog entry to see all the photos i've uploaded so far)
here are the townships outside of capetown...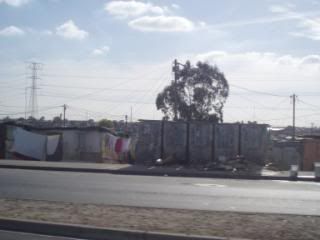 that beach is fairly close to the townships. isn't it crazy that such a beautiful beach is so close to poverty and pain?
well, who wants to hear some good news?!
today was our first day at Fezeka! we got there around 11am and met with Alex (the girl who is an english teacher there from Education Without Borders) and Pumi (poo-me) the choir director and another english teacher. it was the four students, crystle, laura, liz and myself and dr. fish. we all sat around throwing out ideas and brainstorming about how we should spend our next two weeks (it's going by so fast!).
so we start bringing up ideas that we have had like a recycling project, garden project, working on their library (it's basically an empty room, no book, it stays locked and no one uses it), a book club, various other clubs, helping them with their computer lab (basic computer skills, email, online newsletter, webpage for the school, etc.)
once we spent about an hour talking to alex and pumi, alex had to leave to teach her class so we stayed with pumi to get his input on some other ideas. we started focusing more on the book club idea so pumi decided to go get 4 students to bring in. we were so excited! up until that point we had not met any students and we were getting very frustrated and anxious. four girls walked in the room and we might have scared them because we jumped up to introduce ourselves and started asking questions about what they wanted from us and what they wanted to see in their school.
one girls name was Amanda. she was so cool. she was very outspoken and pretty much took charge of the group. she likes harry potter books and the sisterhood of the traveling pants. all the girls said they would LOVE a book club...i might have to break your heart in a second so you have been warned...we asked the girls if they thought some sort of incentive or rewards program would be nice to go along with the book club. they said that would help because a lot of their friends don't like to read (i also mentioned setting up a pen-pal/email-pal with students from the states so they can discuss books and other things and they loved that idea) so anyway, we asked what type of rewards or prizes they would want for the club. they said........are you ready?.......
us: "what type of prizes would you guys like for, say, completing a book? or reading a certain amount of book?"
girls: "encouragement. maybe a nice certificate? but just encouragement from our friends and teachers."
they didn't want any gold stars or pens or candy. they wanted ENCOURAGEMENT. you can't buy that. we all held back the tears and kept talking.
i just got the 10 minute warning from the manager so i have to hurry up. i hate that i can't update this everyday!
my job will be (for the most part) working in the computer lab with Swallows (the IT teacher, he's awesome). they really need help blocking websites that are eating up the internet space. i already did that today while i was there. now i just have to get a list of sites he wants me to add to the block. i'm also going to make a school webpage where they can post announcements, have links to the different clubs, pictures and other information. i'll fill you in on details when i have time. i didn't want to be the IT geek the whole time i was there but i know that's where they really need me. and if that's what they need then i'm all for it. but it is about 110 degrees in the lab. i wonder if Swallows knows he should crack a few of those windows? the weather is great, it began to rain a little today but there was a nice cool breeze all day. LOVED IT.
we went to the water front this evening for dinner and shopping. it is gorgeous. we heard a band and i have some video and pictures. i'll try to get them up tomorrow. the drums were amazing and some of us danced and clapped (even though we looked like total idiots, we didn't care)
sorry this blog was so scattered. i'll do a better job next time. word on the street is i have an audience now. the pressure is on......
i love you!