after monday i only made it to the computer lab once or twice for less than 30 minutes. as you can tell, it takes me a lot longer than 30 minutes to write an update. so here ya go. 5 pages (in microsoft word) of a weeks worth of activities.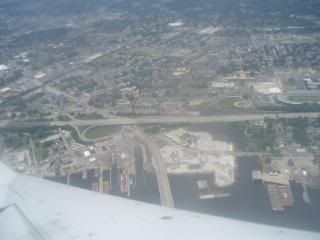 the view of Norfolk from the flight back.
well, i'm home.
It feels weird and normal all at them same time. It kind of freaks me out. My parents picked me up at the airport yesterday and it was like I just left. These past 3 weeks have gone by too fast. Way too fast.
I left off (a week ago, sorry) telling you about the workshop we were putting together for Tuesday. It went really really well. We didn't know where we were going to hold it until 1130am…it started around 130. We found an empty classroom that was probably the size of my living room and about 120 students showed up for the workshop. The first 45 piled in and we thought that was going to be it. No problem, right? Our Life Orientation classes were about that size and sometimes bigger so we weren't sweating… yet. We started the talk about sex and HIV/AIDS awareness then the doors opened again and a flood of students walked in. The first group had chairs but this second group did not. That means about 75 students were standing in this room. Wall to wall. We started to sweat. In the middle of our sex talk when these kids came in you could probably hear a pen drop and we all looked at each other like "uhhhhh. Crap."
It went so great though; regardless of that surprise. We had a PA system but we didn't always use it because the discussion was flowing so nicely. We had students come up to the front and speak about their views on xenophobia and what was happening around them. One girl wrote a poem and came up to recite it. I think Crystle has a copy of it so I'll try to get it from her and put it up here. It gave me goosebumps. Another girl, who will probably rule the world one day because she was an amazing public speaker and so smart and assertive came up and spoke about xenophobia saying, "We are ALL African. We need to live together and respect each other and not be divided by hate and violence". Goosebumps again.
We handed out rulers and pamphlets from rape crisis and gave them all pens for the famous question and answer session. More disturbing questions and a few 'thank you' notes. We answered almost all that came in.
After school we had an appointment with the school board downtown. We met with the finance office, two men. We brought LuLu, one of the teachers from Fezeka. Those teachers never get the chance to be heard, especially by the big wigs downtown. She let them have it and it was awesome. Every question we had was "not their job" and they directed us to the District Office for further assistance. THANKS for nothing. At least they heard us and you can rest assure that was not the last time they will hear us.
Wednesday we went to Stellenbosch University, 30 minutes north of Cape Town. It's an Afrikaans college. Very traditional. We met with the theology department and some grad students and faculty. Jen's friend Richard is a professor there so he introduced us to everyone and conducted a forum to just discuss what we've been up to and how xenophobia has played a part in our work sites. It was nice to talk about our work with people who are living through this situation first hand. After the meeting Richard and his wife took us to one of the wineries a few minutes up the road. There are lots of wineries in that region and the one we went to made us feel like we were in Italy or Spain….not Africa. It was gorgeous. I loved the first white wine we had (yeah I went to a wine tasting! I know Mrs. Bernstein is jealous).
Liz and I painted the book cart. Remember I told you it was a black box that had about six or seven books in it? Well, drum roll please, here it is now! In the next few we will be in contact with Fezeka and see how we can start getting things together to start a book donation contact and also working on grant writing for the library.
BEFORE: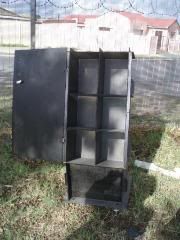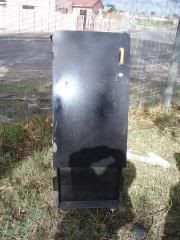 AFTER: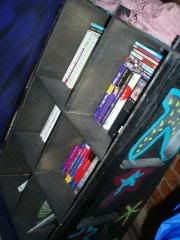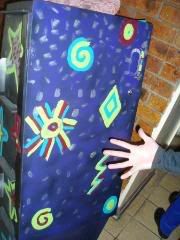 pretty sweet stars huh?
Friday, Linda from District 6 gave us a dinner party at her house. The food was delicious. Grilled chicken, pasta salad, salad, cake, a spicy sausage I sampled from Liz's plate. Yum yum yum. We got home around midnight and crashed.
me and my AMAZING roommate ashley.
Saturday morning Meredith and I woke up early, well, she was supposed to wake me up at 845 to leave by 9 for the local record stores. Turns out she woke me up at 820 and we got down to long street by 840…..the stores don't open until 9. Do you remember me saying there aren't any clocks in the guest house? Thank god for ipods with the time on them. So we just walked around until 9 and checked out some local shops. I got my dad a Jimi Hendrix record that he doesn't have! How did that happen? We got some cool stuff from the African Music Store. And I bought a new wallet from the surf shop on Long Street….it's Volcom. I went to South Africa and bought a Volcom wallet…..sue me.
That afternoon a few of us went to another beach to try to get one more surf session in before we left. Myrtle and Hester came with us! They are so cool. Did I tell you about them? Hester is the president of the Domestic Workers Union (the organization my professor works with and that's what she did her thesis on and why she lived and worked in South Africa since 1995) Myrtle is a member of the DWU and she is a firecracker. We went to a new beach and found out they didn't have any place to rent boards or suits. It was getting to be around 2 o'clock so we didn't have time to go to our old beach since they stopped renting at 5pm. We were bummed but the beach was still beautiful…..until we saw dr. fish come around the corner holding a surf board! I automatically yelled, "please don't tell me you robbed a kid of their board!" she laughed and told us she found a local and told him our story and he was going home to get his stuff for us to use. Wet suits and boards! It turns out this guy was the long board CHAMPION of cape town. His name was Mark Hoyle. He surfs everywhere, even in California and Australia. His sister is married to one of the band members from YES. What a kind soul. I told him people in Virginia Beach would never do what he did. Have I told you it's just a different world there?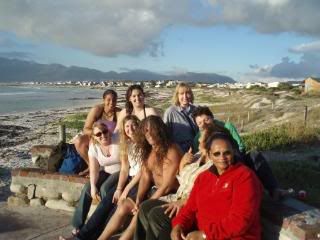 this is the group that went to the beach. Nicole. Meredith. Liz. Ashley. Me. we went to a little pub down the road and sat out on the deck. a 3 story deck that i dropped my camera off of. it landed in a flower bed. not a scratch on it.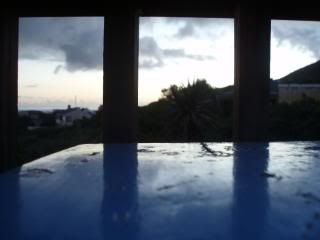 Saturday night we all went to the African Café. A few other special guests attended. Myrtle, Hester, Val (our amazing house keeper), Oliver (her son) and Vuyo (Jen's host brother from her first trip to SA!). The whole group was there. The dinner was called a 'communal feast' that means they bring out EVERYTHING on the menu for you to try and then if you aren't stuffed to the gills and still want more you can order what you like. I tried a little of everything. Some stuff was spicy and sweet but it was all good!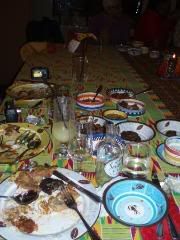 hester and myrtle
liz and i with val (our house keeper) hester and myrtle.
That night after the café some of us went back to the guest house the others went out to the club one last time. Oliver and his friends Glen and Ivarr came over for one last hangout before we had to leave. We met them the first weekend we were there. They are all our age and so much fun! They are definitely our South African friends. Not just contacts. We sat in the courtyard all night laughing and playing cards and just talking then they told us (me, Meredith, Ashley and Nicole) that they wanted to take us somewhere we haven't been yet. It was about 2 in the morning so I needed a bit of encouragement and incentive to go and not just walk upstairs to my room. Then they told us if we don't go then we can't say that we have experienced Cape Town. I changed and we got in the car. We drove about 15 minutes through some really nice neighborhoods that reminded me of Bay Colony in Virginia Beach. We ended up at this little cut of bushes and rocks. Walked up a little pathway to an opening with huge boulders all around us. There was one boulder right in front of us and we all climbed up (more like stepped up and sat, it wasn't as big as I'm probably making it sound haha). As soon as we stepped up I looked out and all I could see was this beautiful view of the beach. We were on the side of a cliff over looking the ocean. Above us was an estimate of 8 billion stars and you could see every single one clearly. The sound of the waves and the cool breeze gave me butterflies in my tummy. It was amazing. I've never seen a view like this one. The smell was so clean and the air was infinite. The seven of us all huddled around on the rock and just sat. We sat and talked and laughed. We came home around 5 in the morning and had to say our tearful goodbyes. I couldn't cry because I remembered my last night at home before I left….i spent the night out on the beach with three of my best friends….until almost 5 in the morning. I knew this meant something. I knew this wasn't going to be the last time I saw them but I still hugged them as tight as I could for as long as I could. They drove off and we came inside to do some last minute packing and went to sleep for a few hours. More like a nap since we had to be up at 815.
me and ashley's room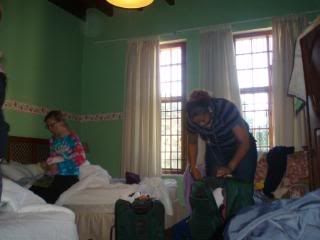 Sunday morning was hard. We woke up and everyone knew the clock was ticking. We had so many goodbyes to say and so little time to do it in. We gave presents to Val and the other house keepers and our driver. We met as a group one last time and I said I would go first for the last dialogue….
For those of you reading that don't know why Saturday May 31st was significant to me, I'll tell you. A close friend of mine was killed in a car accident a year ago on Saturday and going into this trip I knew I would be missing her memorial show here at home. So all day Saturday I wore purple (cayce's favorite color) and I told my group they really helped me that day. All the fun and laughter and beauty that Saturday held helped ease the pain of not being able to be home for my friends. I said my thanks and the next person started talking. Then the next and the next. We all gave our thanks and recalled memories and then realized we had to get going. Some of us thought about how we could sabotage our flight just to be able to stay a few more days…..no names will be mentioned.
The airport was yet another cluster of mishaps. They checked all of our luggage under one girl. She can only claim 2 bags so that meant the other 14 would go unclaimed. They ripped the tag off my bag so I stood there and said 'I'm not leaving until I see a claim sticker on my bag' this was after, before and during the process of them asking who's bag it was. I told them it was mine at least 17 times. And they asked 17 more times throughout the process…it ended like this.
Man: "who does the red bag belong to" (it's sitting on the floor, the same spot it's been the whole time'
Me: "me. Katie Elder. It says Elder on the address tag. That's me. Elder. The red bag right there."
Man: "ok. So you're Elder?"
Me: "……………YES"
my bag still sits and he goes to print out my tag…but never puts it on my bag. Then more girls in the group chime in about their bags and how this process is ridiculous and the lady at the counter says we're "difficult" and we can't stand there anymore.
Oh, no no no. I wasn't going anywhere and my professor said I didn't have to move. So the lady told me to move and I said, with a smile on my face…
Me: "uh no, I'm not going ANYWHERE until I see a claim ticket be put on my bag. Right there. The red one."
Man: "ok, what is your name?"
Me: "ELDER. KATIE ELDER. I'M STILL KATIE ELDER AND THAT IS STILL MY BAG THAT STILL DOESN'T HAVE A CLAIM TICKET ON IT. I'M KATIE ELDER AND THAT IS MY RED BAG THAT DOESN'T HAVE A TICKET ON IT. I WILL GLADLY LEAVE THE COUNTER AS SOON AS I PHYSICALLY SEE YOU PUT A CLAIM TICKET ON MY BAG."
The guy hands her the ticket and she looks at it and says
Lady: "Elder. Oh this is the first one that was printed, I can see why you would be upset."
Me: "yeah, something like that. Thanks."
A total of 15 minutes.
The plane ride back wasn't so bad. It was longer than the flight there but it didn't feel like it. We went from Cape Town to Johannesburg (2 hours) then Senegal (just to re-fuel, we didn't change planes) to New York (17 hours) then NY to DC (not even an hour) and DC to home (maybe 35 minutes). I had two empty seats beside me so I got to sleep a lot. I watched some movies too but mostly slept.
i forgot to fit in here that i played soccer with some kids from one of the townships.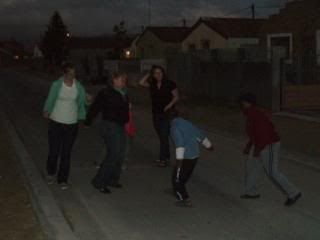 I miss everything and everyone already. I want to go back right now. There is so much more I want to do and so much more work that needs to be done. I wanted to save this part for last because it was the hardest part of the trip……saying my goodbyes at Fezeka on Friday.
We brought all of our donations and gifts in the morning. Did some last minute work in the computer lab and then just hungout around the school with the kids. They were playing a soccer game in the courtyard and everyone was watching. They were doing exams that week so I think they were all done. We went to the workroom to attend our goodbye assembly the teachers put together. Pumi and the principal and alex and some students from the book club and LuLu all spoke. They told us how much they appreciated our work and we told them thank you for letting us come into your world and experiencing this life with them. Then Pumi rolled in the piano and a few kids from the choir sang a beautiful gospel version of Lean On Me…my eyes watered up but I couldn't start crying because I knew I couldn't stop if I did. We all hugged and talked and got email addresses. We walked outside to find our choir boys because Liz and I had special goody bags for them. Their faces lit up when I gave them pictures of themselves. Sbu asked me about 7 times when I was coming back and Nicole told me when I wasn't around he was asking about me and even asked Dr. Fish when were coming back. Sbu and Khanyiso sang a special song they arranged just for us. I never found my cord but I just ordered a new one so as soon as it gets here I'll load the video. I'll save you the tears for now though.
Leaving them was so painful. Not knowing when I'm going to see them again or if they really believe that we will be back. Those kids have been through so much and they are still strong and kind and gentle. I have never met more amazing kids than this group. They are so welcoming and funny and sweet and want nothing more than a high five or a hug. I'm afraid I might have bruised Sbu because I hugged him so tightly and told him how much I was going to miss him and the other boys. And Pumi and Swallows for that matter. They are all my new best friends and apart of my family. They all hold a piece in my heart and I will see them again someday. I have to. I don't know when or how but I know it will happen. I'm stubborn enough to do whatever it takes to make that happen.
me and pumi! the choir director/english teacher/department head/amazing wonderful person with a heart of gold
me and swallows! IT teacher/comedien/new best friend also with a heart of gold
liz and i with our boys. Vuyo, Thando, Khanyiso, Sbu.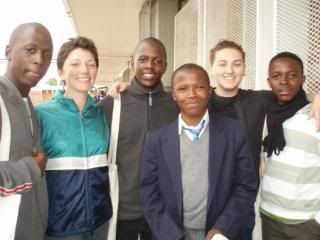 some of my website team kids (and dr. triplett)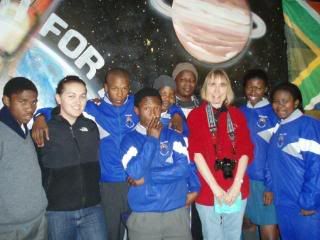 last but not least. me and my Sbu.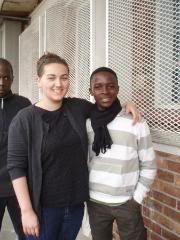 This trip has been so life changing. All the little things about life at home that made me mad don't matter anymore. The pettiness of fake friends or fake people doesn't matter anymore. I know who I love and who I care about and I know who loves me and cares about me. I know what I want to do with my life. Maybe not when I'm going to do it but I do know I want to do the kind of work that I've done for the past 3 weeks. I have so many pictures and stories but no one will ever really know how amazing this adventure has been. I'll do my best to tell you all about it but forgive me if I leave out anything…..or I may have to hold back some special moments because they are just too precious to make public. Thank you all for reading and following me on this life journey.
"the world is truly round and seems to start and end with those we love." –Nelson Mandela